The Central Asia return train has arrived in Hefei, marking a new breakthrough for the China-Europe freight train
发布日期:2020-07-09 浏览次数:546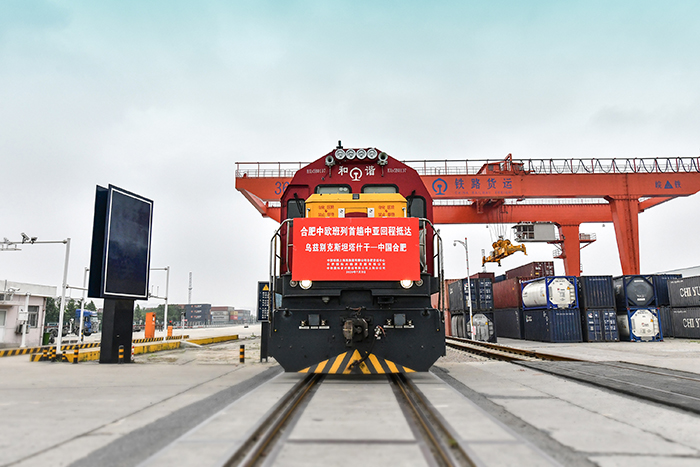 On July 9, the Central Asia (Tashkent - Hefei) return train loaded with cotton yarn arrived at Hefei North Railway Station. The central Asia return train in Hefei achieves zero breakthrough. This train leaves from Tashkent, Uzbekistan, carrying 82TEU of imported cotton yarn and more than 195 tons of cargo. It adopts the mode of "international + domestic combined transport by rail and rail". It covers the whole journey of 5,522 kilometers and arrives in Hefei via Horgos port.
This trip to the new European cotton yarn return train running smoothly, marked "uzbekistan - huoerguos - hefei" return transport channel has get through, at this point, hefei central trains to realize "central to return and central Asia to return" "double double", further enrich the transport varieties, service capacity to further improve, trains effect further.
At present, the China-Europe Hefei Freight train operated by Hefei International Inland Port has opened international freight channels through alashankou, Manzhouli, Erenhot and Horgos ports in fortress countries such as Germany, Finland, Russia, Kazakhstan and Uzbekistan. Special period, hefei international land port resolutely implement the national policy, actively respond to a nation, state responsibility, the power to return to work and production, the next step, will strive to return to normal operation, realize the new European central Asia continue to gather force "six stability" six bao ", "to promote foreign trade and promote steady quality, boost higher level opening to the outside world, contributing to open international freight channel land port power.
Uzbekistan is a famous "silk Road" ancient country, rich in high-quality cotton, its cotton is famous for stable and high yield and excellent quality, known as the "country of platinum". Tashkent, the capital, was one of the important commercial hubs on the ancient "Silk Road", and is still an important transportation hub today, as well as a major city of trade and logistics transportation between China and Uzbekistan.